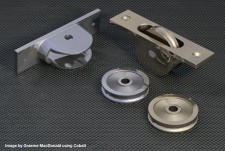 Precision surface and solids CAD for creative professionals
ST. GEORGE, Utah, September 27, 2017 (Newswire.com) - Today, 3D/VR/AR developer Strata, announced the addition of Cobalt to its design suite. Cobalt brings precision control, NURBS surfaces, and solid modeling computer-aided design (CAD) to Strata's tool set. Designers doing product, industrial, transportation and other design tasks will find Cobalt a powerful and intuitive way to explore and realize their ideas.
Strata CEO, John Wright said, "Cobalt adds a precision design tool to our suite that gives users the ability to not only visualize their concept, but to take those ideas all the way through to manufacturing — including 3D printing. There's a reason why companies like Apple and Reebok have relied on Cobalt to make revolutionary ideas come to life."
Cobalt offers parametric design variations using equations or relationships so users can quickly develop product families from a singular concept. Cobalt also includes a 3D mechanical parts library includes 150 thousand bearings, bolts, nuts and other parts to aid in product design speed and efficiency.
About Cobalt
Geared towards product designers and engineers, Cobalt adds a level of precision and manufacturing focus to the Strata suite with features like environment maps, dimensionally constrained parametric sketching and independent 2D/3D drawing tools.
Cobalt is available on the Strata website in both Mac and PC versions. Normally $1495, Cobalt is discounted for launch to $995 for designers who use the promo code COBALT3DCX at checkout (offer expires 10/02/2017). Users who download it from the Strata store, also get access to free resources such as Design 3D SE, Sculpt 3D, discounts, tutorials, and other design resources. Cobalt is also available as a subscription for $59.95 a month.
About Strata:
Strata is an award-winning 3D/VR/AR Developer that creates powerful 3D modeling software and custom solutions."Design 3D" and "Spaces VR" are trademarks of, and "Strata" is a registered trademark of, Strata Mixed Reality Inc. All other trademarks are the property of their respective holders.
Source: Strata
Share: